Rita's of Hellertown
1130 Main StHellertown, PA 18055
Closed for the season
Catering & Events Availability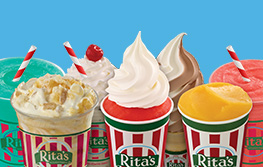 Opening Date Announced
Opening Soon for the 2020 Season!
Rita's of Hellertown is opening for the 2020 season on
Saturday, February 29th
!
Our owners and employees sincerely look forward to seeing you again this season!
We Cater!
Rita's of Hellertown Caters!
...even when the store is closed for the season!

What could be more appetizing and refreshing at your next event than Rita's catering?! Keep your group happy and smiling by catering your gathering with Rita's! We happily cater any size event and can customize our wide variety of products to your every need - Italian Ice, Custard, Custard Sandwiches, Philly Soft Pretzels, and more! We've already catered weddings, fundraisers, workplace events, community events!

We provide everything you need - Rita's cool treats, plus cups, scoopers, spoons, and other utensils. We even offer delivery for catering orders!

Since every gathering is different, we want to customize our offerings to your needs. Please call the store at (610) 838-2000 & leave a message, or click here to submit your Cool Catering request.
FLAVOR AVAILABILITY
Please call for today's flavors