Rita's of Marple Township
2105 Sproul RdBroomall, PA 19008
Open until 10:00 PM
| | |
| --- | --- |
| Monday | |
| Tuesday | |
| Wednesday | |
| Thursday | |
| Friday | |
| Saturday | |
| Sunday | |
Catering & Events Availability

Third Party Delivery Services
Click below to have Happiness Delivered!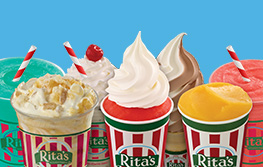 EVERY DAY SALE
Mix and Match Quarts of Ice/Pints of Custard 3 for $15.99
COOL ALERTS
Let us EMAIL you when we have your FAVORITE FLAVOR, JOIN COOL ALERTS!
INSTAGRAM
Follow us on Twitter @RitasofBroomall
TWITTER
Follow us on Twitter @RitasBroomall for cool tweets
DOOR DASH
Door Dash is now available!
RAINBOW ICES & RAINBOW GELATIS, LTO
3 LAYERS OF YOUR FAVORITE ICES IN A CLEAR CUP SMALL, 12oz. $3.99 LARGE, 20oz. $4.59 GELATI VERSION, 1 LAYER OF FAVORITE CUSTARD, 3 LAYERS FAVORITE ICE, TOPPED OFF WITH CUSTARD & RAINBOW SPRINKLES! YUMMY IN THE TUMMY!, LTO!
FLAVOR AVAILABILITY
Last updated : 08/08, 11:37 AM