Rita's of White Oak
1985 Lincoln WayRainbow Village Shopping CenterWhite Oak, PA 15131
Closed for the season
Catering & Events Availability

Third Party Delivery Services
Click below to have Happiness Delivered!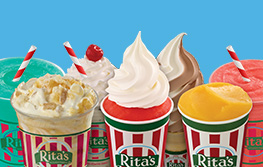 Closing for the season
Our final day for the 2021 season will be Sunday, October 24th.
Stock up for the winter!
Our Annual Quart Sale is going on now! Buy 3 quarts of Italian Ice and get the 4th one for free! Don't get caught with an empty freezer this winter!
3rd Party Delivery
Rita's of White Oak has partnered with Door Dash this year for your convenience!
Different Look
Due to the difficulty of cup and container suppliers to obtain the materials needed to produce certain products during these "New Normal" Covid times, some of our cups and lids need to be resourced from other suppliers. So even though appearances change we can assure you that all weights and measurements remain consistent, whether it be Ices, Custard or Sundaes especially. We are trying our best to get through these challenging times. Thank you for your patience and understanding.
FLAVOR AVAILABILITY
Please call for today's flavors