Rita's of Ambler PA
100 E Butler AveAmbler, PA 19002
Closed for the season
Catering & Events Availability

Third Party Delivery Services
Click below to have Happiness Delivered!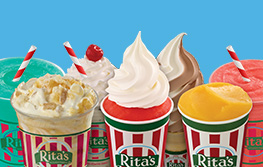 SEASONAL CLOSING DATE
Our closing date for the 2023 season is Sunday October 15, 2023.
HIRING INFO
If you are interested in joining our staff for the upcoming 2024 season, please fill out the online application. Minimum age is 14 years old but ideally you should be at least 16 years old (or turning 16 during our season) and be able to work from late February thru early October. Interviews will be conducted in mid-January with training starting in early February. If you are interested, please click on the "Join the Team" tab at the top of this page and follow the instructions to complete an application.
FLAVOR AVAILABILITY
Please call for today's flavors