Rita's of Apple Valley
15594 Pilot Knob RdCobblestone Lake Commercial Suite #400Apple Valley, MN 55124
Closed for the season
Catering & Events Availability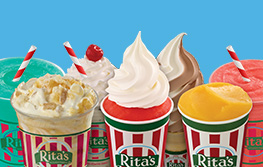 See you in Spring 2020
Closed for the 2019 winter season. See you in Spring 2020!
We Cater!
We cater all kinds of parties and events, big or small, from 5 to 5,000.
Need help with fundraising?
Invite us to your hosted event or tournament, and we will donate a portion of our sales back to your group.
Request a flavor!
We love getting flavor requests. Call us one day before and we'll make your favorite flavor for you.
Love Rita's?
You can also have your own Rita's store! Call us for details.
FLAVOR AVAILABILITY
Please call for today's flavors