Rita's of Eatontown NJ
76C Highway 35Eatontown, NJ 07724
Hours: 12:00 PM - 9:00 PM EST
| | |
| --- | --- |
| Monday | |
| Tuesday | |
| Wednesday | |
| Thursday | |
| Friday | |
| Saturday | |
| Sunday | |
Catering & Events Availability


Third Party Delivery Services
Click below to have Happiness Delivered!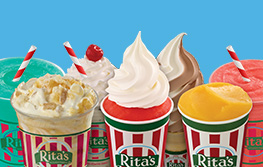 Good To Go!
Family Take Home Pack: $24.99 2 Large Ices 2 Large Gelatis ************* DIY Treat Take Home Kits: $35.99 3 Large Cups of Custard 2 Quarts of Ice 1 Kids Cup of Sprinkles Now have arrived for in store pickup
Self Catering Packages
We offer Self Catering Packages for your occasions. Please call store for pricing.
Third Party Delivery
We now also offer Rita's Treats and Happiness with Door Dash.
Curbside Pick up Available
Please call ahead with your orders. Tell us your name, time of pick-up, pay over the phone and we will have it ready for Curbside pickup.
Take-Out Available
You can also pick up your orders at the store and pay when you arrive.
Limiting Lobby Use
The lobby will be limited to a few guests at a time. Masks are required upon entrance. Our store has created visual markers on floor to assist in observing and maintaining 6ft social distancing recommendations. Each guest is welcome to wait outside until a guest has left the lobby.
No Outside Seating
Signage has been placed to prohibit the use of our outside seating areas.
Have a favorite flavor?
Do you have a favorite flavor? Make it known! Contact us on Social Media at @ritaseatontown and we will be sure to make whatever your heart desires!
FLAVOR AVAILABILITY
Please call for today's flavors