Rita's of Elkins Park
110 Yorktown PlzElkins Park, PA 19027
Closed for the season
Catering & Events Availability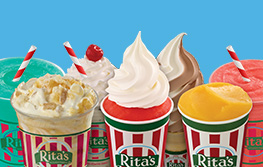 CONCRETE
COME TRY OUR NEW CONCRETES THEY ARE AMAZING YOU DO NOT WANT TO MISS OUT ON THAT! JUST COME TO THE STORE AND ASK US ABOUT IT.
QUARTS
3 FOR $12 GET YOUR QUARTS WHILE THE PROMOTION LASTS. YOU DO NOT WANT TO MISS OUT ON A GREAT DEAL.
COOL ALERTS
SIGN UP ONLINE TO MAKE SURE YOU DON'T MISS OUT ON OUR SPECIAL FLAVORS OF THE DAY. GET EMAIL AND TEXT ALERTS TO KEEP AN EYE OUT FOR YOUR FAVORITE FLAVOR!
CATERING
YES WE DO CATER GIVE US A CALL AT THE STORE FOR MORE INFORMATION! YOU WONT BE DISAPPOINTED!
First Day of Spring
Postponed until further noticed. sorry for the trouble
FLAVOR AVAILABILITY
Please call for today's flavors