Rita's of Fairfax
10726 Fairfax BlvdFairfax, VA 22030
Closed for the season
Catering & Events Availability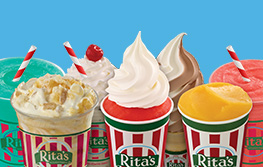 Winter catering only
The storefront is closed for the winter, but we're still available for catering and events. Re-opening in the spring.
Make it special with Year-round Catering by Rita's of Fairfax
Let us do the work and you take the credit! Parties, Company/School Gatherings, Celebrations, Seminars, Member/Customer Appreciations are examples of events we've catered. Select the Cool Catering tab or send an email to catering@ritasoffairfax.com.
Interact with us through social media #:)
Like us on Facebook! If you're on FB already, it'll be a great way to keep tabs on us, or help spread happiness. We've been known to announce specials there.

Hit the Facebook icon on the left or go to http://www.facebook.com/RitasOfFairfax

Twitter if you prefer sweet tweets - @RitasofFairfax

A picture says a thousand words on Instagram - @ritasoffairfax
Birthday Club
Get a free Italian Ice on your birthday (or 1/2 birthday if yours is in the Winter)! Sign up for the Birthday Club via the link on this page.
Contact Us
Want to talk to us about something else? Just use the "Contact" link at the bottom of this page to drop us a note, or send an email to info@ritasoffairfax.com.
*Special Events* Trailer
Have a big event that would be even bigger with Rita's? Have we got a trailer for you! Sporting events, Festivals, Shows, etc. Inquire at info@ritasoffairfax.com.
Free WiFi
Enjoy free WiFi while you dine at our store.
FLAVOR AVAILABILITY
Please call for today's flavors