Rita's of Fairfax
10726 Fairfax BlvdFairfax, VA 22030
Closed for the season
Catering & Events Availability


Third Party Delivery Services
Click below to have Happiness Delivered!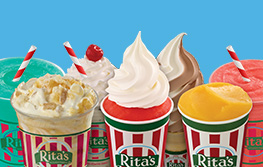 Seasonal Close
Thank you to all of our guests this year! We'll see you in Feb/Mar of 2021! Still available for possible catering opportunities at catering@ritasoffairfax.com
Make it special with Year-round Catering by Rita's of Fairfax
Let us do the work and you take the credit! Parties, Company/School Gatherings, Celebrations, Seminars, Member/Customer Appreciations are examples of events we've catered. Select the Cool Catering tab or send an email to catering@ritasoffairfax.com.
Interact with us through social media #:)
Like us on Facebook! If you're on FB already, it'll be a great way to keep tabs on us, or help spread happiness. We've been known to announce specials there.

Facebook - https://www.facebook.com/RitasOfFairfax

Twitter if you prefer sweet tweets - @RitasofFairfax

A picture says a thousand words on Instagram - @ritasoffairfax
Birthday Club
Get a free Italian Ice on your birthday (or 1/2 birthday if yours is in the Winter)! Sign up for the Birthday Club on the Rewards tab.
*Special Events* Trailer
Have a big event that would be even bigger with Rita's? Have we got a trailer for you! Sporting events, Festivals, Shows, etc. Inquire at info@ritasoffairfax.com.
Contact Us
Want to talk to us about something else? Just use the "Contact" link at the bottom of this page to drop us a note, or send an email to info@ritasoffairfax.com.
Free WiFi
Enjoy free WiFi at our store - so you can post your happiness :)
FLAVOR AVAILABILITY
Please call for today's flavors