Rita's of Hamburg PA
400 S. Fourth StreetHamburg, PA 19526
Closed for the season
Catering & Events Availability



Third Party Delivery Services
Click below to have Happiness Delivered!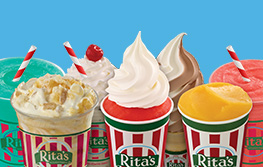 GRAND OPENING CELEBRATION - (We opened our doors with a soft opening)- Now we are ready to CELEBRATE in a BIG WAY!!
JOIN US: APRIL 28 4pm-6pm FREE PARKING- Lot on corner of 3rd&Windsor-Courtesy of VJ WOODS AUTOMOTIVE The first 50 guests in line with Free Rita's Italian Ice for a Year!* From 4 p.m. to 6 p.m., guests are also invited to enjoy free giveaways from the Rita's prize wheel, photo opportunities with Rita's mascot Ice Guy, face painting, swag giveaways, and more. Guests will also have access to free parking on the corner of 3rd and Windsor, owned by VJ Woods Automotive.
FLAVOR AVAILABILITY
Please call for today's flavors