Rita's of Hillsborough NJ
381 Triangle RdBldg FHillsborough, NJ 08844
Closed for the season
Catering & Events Availability




Third Party Delivery Services
Click below to have Happiness Delivered!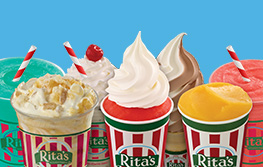 Pumpkin Frozen Coffee!
NEW for fall, Pumpkin COLD BREW Frozen Coffees are brewing at Rita's! Choose from Original, Pumpkin, Caramel, or Mocha.
Social Media
Follow us on Instagram or Facebook for daily updates on flavors and promotions.
Email Us
Please email us at RitasIceHillsborough@gmail.com if you have any questions or concerns.
FLAVOR AVAILABILITY
Please call for today's flavors