Rita's of Limekiln Pike PA
3322 Limekiln PikeChalfont, PA 18914
Hours: 12:00 PM - 9:00 PM EST
| | |
| --- | --- |
| Monday | |
| Tuesday | |
| Wednesday | |
| Thursday | |
| Friday | |
| Saturday | |
| Sunday | |
Catering & Events Availability
Third Party Delivery Services
Click below to have Happiness Delivered!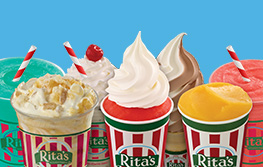 Closing for the Season 10/2
Thank YOU for making our season a happy and successful one! We are closing Sunday, 10/2, however we are already planning for 2023. Have a happy holiday season we will see you at the end of February 2023.
3 Ways to Get Your Rita's!
1. Drive in and Walk up 2. Call ahead/Curbside Delivery 3. Doordash, Grubhub, Uber Eats
Fundraising for your Organization
Rita's specializes in fundraising opportunities for community organizations. School PTA's, Sports Teams and Clubs, Churches etc. Give us a call for more information!
Delight Your Guests with Rita's
Call 215-577-4777 to order Quarts or Gallons for your private party! Watch the smiles appear as you scoop Rita's Italian Ice into our signature red and green logo cups. Your party will experience the happiness that only Rita's can bring!
FLAVOR AVAILABILITY
Please call for today's flavors