Rita's of Manahawkin NJ
50 W Bay AvenueManahawkin, NJ 08050
Closed for the season
Catering & Events Availability
Third Party Delivery Services
Click below to have Happiness Delivered!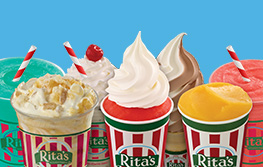 Manahawkin Rita's In Our Community
Rita's is proud to Sponsor Southern Regional AYF Football & Cheer! Have a great season.
Donation
Rita's Manahawkin will be helping the Southern Regional High School Students get excited about the 2022-2023 school year sponsoring the annual tailgate.
Athelete of the Week
Rita's of Manahawkin will be sponsoring the Southern Regional High School Male & Female Athelete of the Weeks and Student of the Month
Closed for Season
We would like to Thank our Guests for a wonderful year. It was a pleasure serving you. See you in March 2023!
FLAVOR AVAILABILITY
Please call for today's flavors