Rita's of Manalapan
342 US Highway 9Manalapan, NJ 07726
Closed for the season
Catering & Events Availability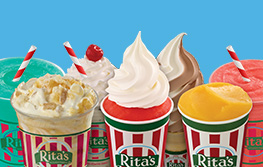 Opening for the 2020 Season on February 29
We've missed you. Make sure you stop by and say hi on February 29 !
Fundraiser
Rita's of Manalapan can help you raise money for your school, sports teams, and any organization of your choice. Please call Lina at (732) 299-1120 to learn more about Celebrity Scoop, Quart Fundraiser, and Fundraiser cards. We are booking now Fundraiser events for 2020.
Hiring for Morning Shift
Looking for an adults who can come open the store Monday through Friday from 11:00-4:00 PM please contact Lina (732)299-1120 if you are interested.
Hiring for different shifts
If you are energetic, hard working, responsible and love to work in a fun environment, please call Lina at (732) 299-1120. various shifts avaialable
FLAVOR AVAILABILITY
Please call for today's flavors