Rita's of Vienna VA
116 Church St NWVienna, VA 22180
Hours: 12:00 PM - 10:00 PM EST
| | |
| --- | --- |
| Monday | |
| Tuesday | |
| Wednesday | |
| Thursday | |
| Friday | |
| Saturday | |
| Sunday | |
Catering & Events Availability

Third Party Delivery Services
Click below to have Happiness Delivered!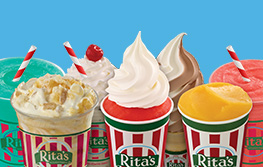 **NEW (MORE) HOURS**
Our Summer Hours start now--opening at noon and closing at 10pm daily!!
WE ARE HIRING
We are seeking candidates for Shift Leader, Assistant Manager and Store Manager. Please click on the Join The Team link for more information (or type the following address in your browser: https://vienna.ritasjobs.com)
DELIVERY
Have your favorite treat delivered! We are available on Uber Eats and DoorDash! Ordering is available until 30 minutes before closing.
CATERING
Our full service catering is back! Contact us via the Cool Catering button on this page or info@ritasofleesburg.com (or through Instagram or Facebook).
FLAVOR AVAILABILITY
Please call for today's flavors