Rita's of Vienna
116 Church St NWVienna, VA 22180
Closed for the season
Catering & Events Availability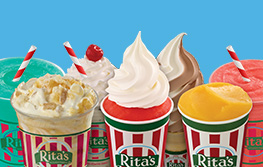 WE'RE H I R I N G
Rita's Italian Ice & Frozen Custard is growing! We are looking to enhance our teams in Leesburg and Vienna, and to build an amazing start-up team for our newest location opening in Chantilly in late Spring 2020!

We're hiring Managers, Assistant Managers and Shift Leaders. Weekday daytime availability (at least 2 days) is required. Starting hourly rates for Managers, Assistant Managers and Shift Leaders are $16, $13 and $11 or more, depending on FT or PT status and experience. Shift Leader candidates can qualify with as little as 6 months relevant job experience. Permanent FT Managers also receive paid vacation, and are eligible for bonus plans and participation in a 401(k) plan.

We also will be hiring entry-level Treat Team Members with start dates in March and late Spring for our Summer Season. Hourly rates start between $8 to $9 or more, depending on job experience.

All positions offer a positive, fun work environment with advancement opportunities. Job applications and more information on each position can be found at the 'Join The Team' link (at the top or bottom of this page) on on our websites—www.ritasofleesburg.com and www.ritasofvienna.com.

Employees for our new Chantilly store will train in Leesburg or Vienna. Apply at either website above and choose Chantilly as Store Location.
CLOSED FOR THE WINTER
We re-open Saturday, February 29, 2020!
WE CATER
For full service catering or fundraising opportunities, please contact us via Facebook messenger, info@ritasofleesburg.com or (703) 272-8564.
FLAVOR AVAILABILITY
Please call for today's flavors